On Thursday, September 24, 2020 participants teed off at Cottonwood Golf & Country Club to participate in the first annual Golf for Pacekids presented by BD&P.
Thanks to the generous support of Cottonwood and BD&P, Pacekids was able to safely host 63 participants on a beautiful Fall morning to raise critical funding for Pacekids' Early Childhood Services program.
The tournament saw Pacekids supporters, families and community members come together to raise nearly $12,000 for Pacekids!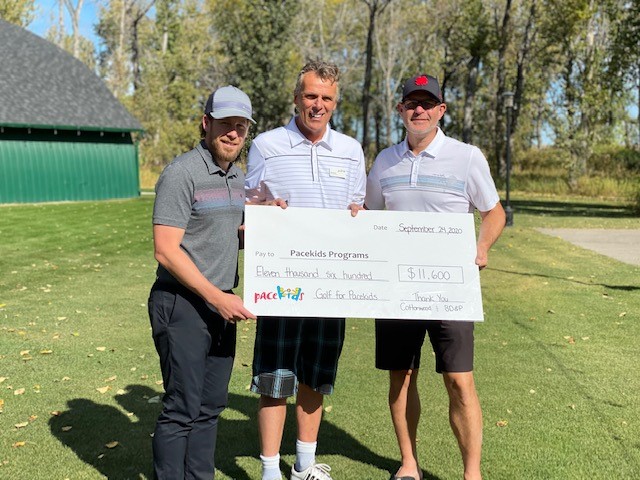 Pictured at the 1st annual Golf for Pacekids are board members, Kyle Edwards (Left) and Scott Matson (Right) and Executive Director, Alex Reed (Middle).
"We are truly grateful to have been provided with this opportunity to raise funds and awareness for Pacekids. In these unprecedented times, we find hope in knowing that we have tremendous community partners and supporters behind us and know that we will get through this, together." says Alex Reed, Executive Director at Pacekids.
Proceeds from Golf for Pacekids will provide critical early intervention programming and therapies for Calgary children with special needs.
To learn more about the work of Pacekids and future events like Golf for Pacekids, subscribe to the Pacekids mailing list here.