Every spring, Pacekids hosts an extravagant dance competition unlike anything else in Calgary. This annual fundraiser allows us to raise money to support Pacekids programming by filling faps in funding we do not receive from government budgets. Pacekids' ability to support our community relies on the generosity of the dancers, guests, and their networks. Learn more about how the money raised at Keeping Pace impacts Pacekids.
Equipment like wheelchairs and walkers give children living with mobility limitations the opportunity to experience personal freedom as they move about their day at Pacekids Programs. We provide a variety of highly customizable mobility aides that give children access to more learning scenarios, which amplifies the the growth they experience.
Ashley and Dan enjoy watching their child, Emmett, begin to explore exciting and rewarding environments like adaptive playgrounds using his specialized walker, and say his physical strength has been increasing since he started using it.
"Emmett's crocodile walker has been the key thing that's giving him motivation to move," says Ashley. "For once in his life he knows he can do something by himself."
You are helping us empower many children like Emmett to explore their world, access crucial learning activities, and safely grow their own strength at Pacekids Programs.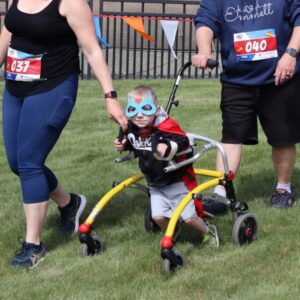 Speech Language Therapy Tools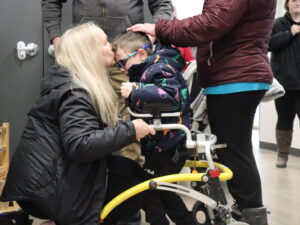 Tools like iPads and communication boards give non-verbal children the chance to communicate their needs and wants to Pacekids staff, parents, and friends. Once children understand the social freedom language offers, they are more likely to engage in learning opportunities that encourage their own verbal development.
Meagan and Chris were overjoyed when their child, Caspar, began speaking in full sentences during his first year at Pacekids Programs.
"When we started with Pacekids, Caspar had just turned three years old and wasn't really talking," says Meagan. "Within three months at Pacekids words just started coming out."
You are helping hundreds of children lift their voice, make new connections, and express themselves to their loved ones at Pacekids Programs.
Sensory calming items and materials allow children to expel excess energy in a safe and productive way. Everything from stuffed animals to mini trampolines help children feel more comfortable in their environment, freeing up their minds for more effective learning.
Vanessa and Julio delight in growing closer to their son, Gabriel, after our team supplied several specialized items that help him feel calm and remain focused throughout his day of learning at home.
"Pacekids gave us a sensory chew and body sock which helps Gabriel a lot," says Vanessa. "He is able to regulate himself better at home."
You are helping create moments of peace, clarity, and stability in the homes of hundreds of families across Calgary as they continue to learn and grow together.