Thanks to the support of the Calgary Children's Foundation, Pacekids Programs has been providing Music Therapy sessions lead by JB Music Therapy (JBMT) to over 200 children in their Early Childhood Services (ECS) and Kindergarten programs since September.
Research has shown that music can be an engaging and attractive stimulus for everyone regardless of a person's age or ability. Studies have shown that Preschool children in an early intervention music program show high on-task behavior during sessions and a high success rate in language development, social skills, cognitive concepts, motor skills, and music knowledge.
With inclusion and play-based learning at the forefront of Pacekids' programming, the Music Therapy Program is an integral offering and a weekly highlight for the children Pacekids serves. In fact, this engaging program is where many non-verbal children have even said their words!
Today, the Music Therapy Program continues to be offered to those Pacekids serves – simply in an alternative way. Virtual interactive sessions and pre-recorded videos are being provided weekly so children can sing-along from the safety of their home as they continue to develop their skills though this unique and engaging program.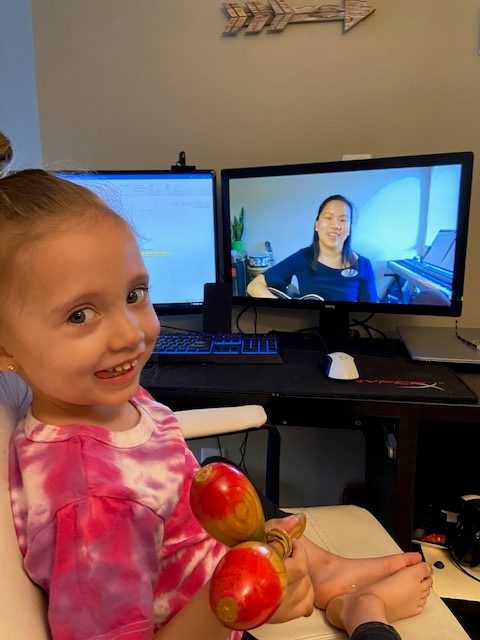 This is Olivia doing a class in the comfort of her own home and having a blast while doing it!
References:
JBMusicTherapy.com
Standley, J. M., & J. E. Hughes (1996).